What is the P90X3 release date. That is the biggest question that seemed to be on everyone's mind on Sept 5, 2013 when Tony Horton himself came to the National Press Club for a group workout.

From the onset Tony hinted at P90X3, he did his famed X with three fingers, but told us he could not talk about this little project he was working on.  He then said that the workout we were going to do was going to consist of moves from the new workout that he is not allowed to speak about.  When pressed, he said the new "unnamed" workout will definitely be out before the holidays!!!!!  It is clear that we can expect a P90X3 Release Date before Christmas.  Based on the release date of P90X2, I would expect a P90X3 release date in December and pre-sales to start in November.  We will talk more about this later, but I am sure you are interested in hearing what the workout was like.
The workout commenced with some of the moves from P90X and P90X2, but then he upped the intensity and brought it.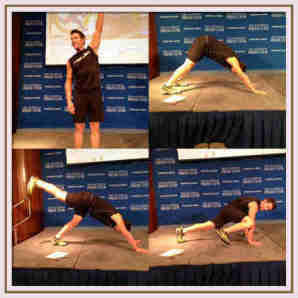 The first move he called elevator push-ups.  I am pretty good with push-ups after multiple rounds of P90X2, Insanity, Body Beast and Focus T25, but these things were brutal.  You start in a plank.  Tony then calls out a floor and you have to hold the push-up there.  The bottom floor was a hover just above the ground and the middle floor, which was isometric hell, was in between being all the way up and all the way down.  You help these positions for what felt like an eternity before he called out top floor.
Next, we saw the apparent Mark Briggs' Mixed Martial Arts influence.  The moves consisted of jabs, punches and elbows that worked the core followed by burpees. As the moves got faster, the cardio intensity went up.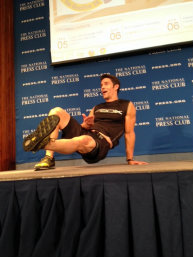 Tony then pulled out a modified abs move that tore up the core.  My hip flexors were on fire.  The move was Banana to upright crunch to Pike.  He held us in each position for five to ten seconds and then you slowly returned to banana.  It was intense.
The next move seemed like a switch kick, but from a plank.  It was another core move with a focus on the obliques.  You basically kicked a leg under your body while switching from side to side.
One of my favorite moves worked balance, the core and chest.  You did two push-up, a side plank and then brought the knee of the upper leg to the elbow for a crunch.  This one got tough really fast.
SpiderMan jumps. These were 360 degree jump spins that started in a squat with one hand on the ground in a Spiderman position. According to Tony, the key was to focus on a point in front of you and to return to that point. My lack of coordination was apparent. Every time I sound around, I landed and fell over.
We also did a lunge followed by a kick with the back leg and then back down into a lunge.  You have to love the burn after a while.
After the workout, we did some meditation with Ohms that felt great after the intense workout.  We ended the workout portion with warrior cries.  Basically, you take a deep breath and than yell as loud as you can for as long as you can with the one breath.  It felt good.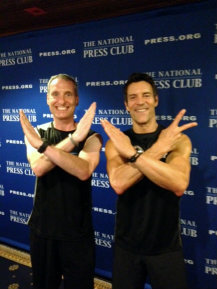 After that, Tony spoke to us for about 45 minutes.  He is a dynamic speaker and really pulls you into his story.  He talked about how aging is something we let happen.  If we eat healthy and exercise, age does not have to be something bad.  His goal is to live until 109.  He mentioned that he is coming out with a personal development book on his life philosophy.  It will be a must read.  One thing that I appreciate about Tony is that he did not bust out of the ordinary until he was in his 40s.  He is now in his mid-50s and would give any 20 year old a run for his money.
I was looking forward to a new Tony Horton workout, but now, I am totally pumped for the P90X3 release date.
Typically, Beachbody gives its coaches, like me, an earlier release date to get the new workout programs to my clients first. You also get a bonus workout, discounted shipping and my support when you order from me.
Get on my list and I will make sure you are the first to hear about the P90X3 release date and how you can get your hands on it.  There is no obligation.  I will just let you know when it is available.